Fomin talks about Dzyuba, his failed transfer to Spartak and his dream of travelling to the United States
Daniil Fomin
In an exclusive interview with Eurostavka, Daniil Fomin a midfielder for Dynamo Moscow and Russian national team commented on Artem Dzyuba's words about Russian cheapskates, talked about his failed transfer to Spartak and recalled what Stanislav Cherchesov said after the 0-5 loss to Serbia.
– It sounds a little strange, but you've been on the national team for a year and a half now.
– Why is it so strange?
– It seems like you're still perceived as someone new to this team... where they have Dzyuba, Zhirkov and others. How much has the Russian national team changed over this time?
– Perhaps such changes began precisely after I was invited to join the team. I didn't have an opportunity to meet such football stars like, for example, Akinfeev. It's hard to compare. However, yes… young guys are being slowly introduced to the team. They have already had their second training camp. We need to bring in new blood and we can't keep winning without it. Stanislav Salamovich is taking it easy: during the first training camp you have to get used to the demands and get to know everyone on the team. Everything has to be done smoothly.
– In general, if you compare it to November 2019: are there any changes in the national team?
– Nope. As from the first day, we perceived the scale, so now as well. This is the main team in our country. There are wellness and nutrition programs for all players, any kind of special services and all you have to do is just to play football.
– And if you take the 2018 World Cup: is there more hate towards the national team right now?
– Personally, I was as excited about 2018 as anyone else. But maybe there is really more pressure now. In some circles of football fans, there is talk that the league is not good enough, and the national team is not good enough too. But the team doesn't talk about it. We have a great team spirit and we are preparing for the Euros.
– Dzyuba is the undisputed leader of the national team, but he is already over 30. Who can take over Artem's position?
– It's hard to find someone like him. When it comes to building the team spirit and making jokes, no other team player could be compared to Dzyuba. Among the young players, maybe Alex Sobolev can take his role.
– Do you feel that there is a rivalry between Dzyuba and Sobolev?
– Of course, there is competition. They are both forwards and want to play in the Euros. It would be strange if there would not be a competition between them.
– But at the same time, Dzyuba is more liberated compared to Sobolev.
– Well, Dzyuba has a valuable experience. He played quite well during the World Cup 2018, he was at Euro 2016. Dzyuba knows how to prepare for the big tournaments. Everyone will do their best at the Euros.
– Dzyuba was criticized for the Deadpool costume, in which Artem appeared at the award ceremony after the Zenit championship. What do you think?
– What did people write about him?
– That he stands out again. In addition, people wrote dirty things, as we know the character of Deadpool what he likes to do that is why people make fun of it.
– I think that's why Dzyuba is special. He can wear a Deadpool costume and celebrate the championship. When you win a championship for the third time in a row, you can do things like that.
– Dzyuba also called the Russians cheapskates, while in Europe, people appreciated his performance, and our people as always.
– I can't say that about the Russian people. I think this is due to the fact that Dzyuba played in Spartak and Zenit. Spartak fans hate to see this.
– Zhirkov is often called a grandpa. Is there really no one in Russia younger than 37-year-old Yuri?
– When I first arrived, I said that I liked Golovin. But I also liked Yura a lot, the man does not do anything superfluous, everything is on time. If there is a need to cross, he will do it perfectly nine times out of ten. You can see his skill level. Age? Ibrahimovic is playing at 40, why can't we have someone like that? Yura looks decent in any game of the national team.
– You said you were looking at Busquets as an example. What do you need to add in your game to get closer to his level?
– I have to work on every aspect of my game. However, now it is not quite correct to draw parallels with Busquets, as today there are many other players that are prominent at this position.
– Who was the best in your position in Russian league by the end of this season?
– Noboa and Krychowiak.
– At the same time, both are over 30 years old.
– I didn't look at their passports, only at how they play. Both players have a significant role in the attacking phase of their teams, and they are quite useful in defense.
– Your transfer to Tambov didn't happen because Talalaev saw you as an attacking midfield. Has the vision changed now?
– Yes. I started to play closer to forwards in Dynamo and I get pleasure when I score goals or make assists. You start to think involuntarily: probably, Andrey Viktorovich was right, he saw my potential.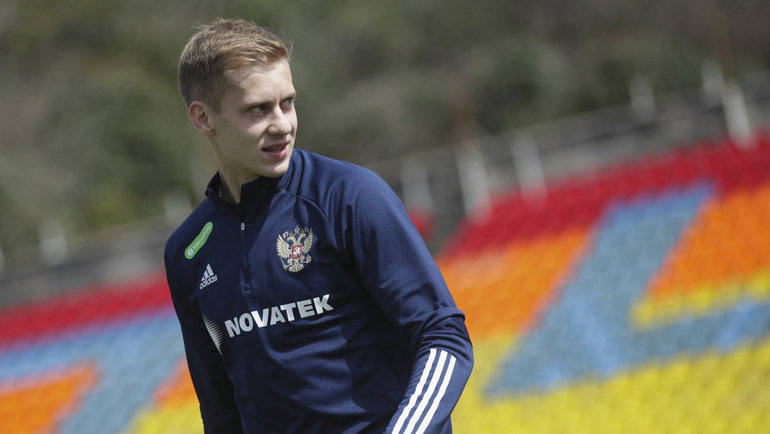 – The draw with Moldova caused a powerful resonance in society. Did you feel all this hatred?
– No, although I played the whole match. First impressions were good as I played well, despite the result. Some Telegram channels wrote that Fomin looked good on the field. Overall, I had mixed feelings. Of course, if we want to achieve our goals, we have to win such matches. It was frustrating. But I'm glad that I was able to show my game. I can add this match on my record.
– What were your feelings when you looked at what people were saying about your teammates and Cherchesov? Everyone got criticized.
– When you draw with Moldova, you don't expect anything else. I understood that there would be room for criticism. But I don't remember reading or thinking about it: "Our national team is getting too much hate". I don't pay attention to such talks. Now I am learning to take both praise and criticism equally.
– Why does Russian national team regularly play poor football with not the strongest opponents?
– I don't remember anything like that, except for the match against Moldova.
– I'm talking about the retrospective in general. We can beat Spain or France, and then play poorly with Cyprus or Moldova.
– Take the same Malta: we won, but after the match, people say that we could have played better. At the same time Malta in the next game beat Slovakia. It is clear that we need to win every game, but it's football, any strong team can lose points against a less powerful team.
– 0:5 against Serbia. You were on the bench the whole match, what were your thoughts?
– Of course, the result was terrible for us. It was the first time in my career, when I was there on the bench and watched such a game. I was disappointed. But, again, any team can play like this: there was a day when Bayern Munich won 8:2 against Barcelona. It would seem that Barca plays great football, but they conceded 8 goals. Same situation was with Brazil at the home World Cup 2014 when they lost to
Germany 1:7. This happens. I wouldn't want that to happen to our team again. It was a bad day for all of us – the fans, the players and the coaches.
– Did you have this thought in mind: "Thank God I was on the bench"?
– Well, it was a tough game to get into. Perhaps the thought had crossed my mind. But you always want to play in the national team – this is what you have dreamed of since childhood. If I came out, I would be happy, because I would get a certain experience. In such matches, you also need to play, take out the pros, every game is a valuable experience.
– Against Malta, it also turned out not the way you wanted. You were substituted right after Mbong's goal in the second half. At that moment, did it not seem that we could lose the advantage?
– It was disturbing, because 2:1 is always a slippery score. Any standard or rebound, and then you can not get out of it. I calmed down when we scored the third goal - I knew that it was a victory. I am glad that I participated in it, I assisted Dzyuba.
– How did Cherchesov react after these two games?
– It's hard to say, I don't even remember. I remember when we arrived, we had two more games to play. We wanted to get as many points as possible. The coach set us up to start playing confidently right away. Therefore, the mood for the first match was serious. We won two, and one was unsuccessful.
– How was your first meeting with Cherchesov?
– At the training camp, I was playing for Ufa at that time. I was called to see Stanislav Salamitch. We talked about my game for the club, about the position - better higher or lower. Cherchesov said: "Come on, get used to it, show yourself". he wished me good luck and that's it. If I am still in the national team, it means that I'm on the right path.
– Did he ask you which position is more comfortable for you to play in?
– At Ufa, I played at positions of number 6 and 8. Stanislav Salamych said that they liked me in the role of 6 better. I agreed, but I feel comfortable at both positions.
– What is the peculiarity of Cherchesov? Why is he the only successful coach who has achieved some results with the national team, well, except for Hiddink?
– He's demanding. "Discipline beats class", the Russian national team under him is the personification of this motto. The team can play with 4 or 5 defenders. Flexibility is also important. These qualities are probably the main ones.
– When was the last time you saw Cherchesov in a rage?
– After the game with Serbia, he spoke in raised tones. The main message was - we can not lose 0:5, the whole country is watching. There is no way we can allow ourselves to play with an attitude like that.
– You said that Evseev was respected by everyone at Ufa and that he was a good coach. Why?
– The results were good at that time. And when there is a result, then the atmosphere in the team is appropriate, after winning in the locker room is always fun. Vadim Valentinich has a great sense of humor, self-irony. He could tell stories. The discipline was in perfect order, everything was clear, although he did not penalize, for example, for excess weight only warned.
– Which of the coaches you have already worked with, in the future, could approach the level at which Cherchesov is now?
– Evseev can become a good coach. I would also single out Kaleshin from Baltika, I worked with him at the Krasnodar academy. He is a football fan, and generally a good person and coach.
– How does Kaleshin manage to convey certain things to young players?
– He does not coach kids anymore, but when I was with him at Krasnodar academy, he wanted us not to be afraid to play. Like, I made a mistake – it is okay. Kaleshin is a Barcelona fan, just like me. He wanted us to play short ball "Tiki-Taka". I was very impressed by his approach to train us. We played well together, his approach is to get results through the game.
– Why do the players from Krasnodar academy so rarely stick with the first team?
– I do not know, it is hard to say.
– Let's talk about it. On the one hand, Galitsky dreams of 11 starting players from his own academy, which was once again confirmed in the film about the club. On the other hand, he signs foreign players as well. Or here comes, for example, Skopintsev, his salary is quite bigger compared to local players like Ignatiev. This results in these local players leaving the club.
– Skopintsev came - and what? This does not mean that Ignatiev has stopped playing. Everything, first of all, depends on trust from the club. Yes, Krasnodar signed up a few legionnaires. But Dynamo, for example, did not sign up anyone in the winter transfer window. As a result, the young players took advantage of the chance. A lot depends on trust from a club.
– It's just such a dissonance: he says one thing, spends a lot of money on the academy. But as a result, not many get trust.
– If I had stayed, maybe I would have played in Krasnodar-2 at the age of 24. And there would be no Russian national team. I have my own story. I am glad that I left Krasnodar.
– Why does Galitsky treat agents in a harsh manner?
– There were no problems with me in this regard. I had an agent and I made it clear at a certain point that I wanted to leave. No one told me that you can't have an agent.
– You're good at chess as well. Do you find something in common between these games?
– You have to think a lot in both games.
– Many people believe that football players are mostly narrow-minded.
– I do not agree with this stereotype. I don't know if this is true or not, but one of Starostin brothers said: "Stupid people don't play football." I like that statement.
– Which chess skills help you in football?
– I don't consider chess as a way to improve my football. Only for leisure: someone reads a book, someone plays a console, and I play chess. There you need to think a few steps ahead. You can indirectly link this to the fact that in football you need to have several options to pass the ball in advance and make quick decisions.
– Does anyone play chess in the national team except you?
– No, I haven't seen anyone playing chess yet.
– Maybe in Dinamo Moscow?
– The team administrator plays chess. But we haven't played each other yet.
– And at Ufa?
– I often played with the second goalkeeper, with Aleksey Chernov.
– Does he play well?
– No, that's why it was nice - I have been winning all the time.
– Who is the toughest opponent you've ever played against?
– My father, I suppose. My grandfather taught me to play, but with my father we can put up a board and enjoy playing together during vacation.
– Known fact: you beat Galitsky. Remember that game?
– It was just nice to win, because this was the last time I could play against him as it was already my graduation from the academy.
– There were rumors that you could move to Spartak. When this option first appeared, what did you think about?
– Gazizov came to Spartak just then, and it was interesting to see what would happen in the end. But there was a concrete interest from Dynamo Moscow and a chance to play in the Europa League. I chose Dynamo and I participated in all the games. It has been a year already and I am glad that I ended up at Dynamo.
– Your father once said that you still keep the Spartak jersey that you were given as a child.
– I don't have a Spartak jersey at home. I'll ask him, I haven't seen it in a while. Now I have everything only in blue colors.
– You mentioned the Europa League. That trip to Georgia: what was that?
– I can not explain it. There wasn't any kind of underestimation as we were preparing for this game. We knew that they have a good team and it will not be easy for us.
– There is also a political subtext.
– Well, yes. It is clear that the whole of Georgia was celebrating this victory for another week. I don't know how to explain it. We just lost. It happens.
– Have you received any threats from the fans?
– No, there was no such thing.
– You didn't celebrate the goal against Krasnodar. Will it always be like this?
– We'll see when I score again.
– And what about Ufa?
– If I score against them, I will celebrate.
– What's the difference?
– Because I grew up in Krasnodar, became a football player, a person. And Ufa ... if we talk about the first round, when there was Evseev and guys with whom I played on one side, I would not celebrate. Because the coaching staff with Yevseyev made me, a football player of the FNL, a player of the Russian national team. Now it's a different team with a different coach, many players have left. I'll do my job and celebrate my goal if I score.
– There were rumors that Zenit is interested in you. Are such transfers possible – from Dynamo to Zenit or from CSKA to Spartak?
– I am glad that I am at Dynamo now. I'm not going anywhere. But never say never.
– How do you like Moscow so far?
– I live in Khimki, near the base. I have plans to move to Moscow in the near future, I look at real estate. My parents live in their native Tikhoretsk, they do not want to move anywhere. They tried to live in Krasnodar – it was difficult for them there, for them it is a big city. They get tired, and Moscow is too much. When they came to visit me, they were immediately emasculated. The city takes energy, there is such a rhythm ... Now we are building a house for them in Tikhoretsk.
– What about your personal life?
– I have a girlfriend. I don't want to guess how serious it is.
– Well, some girls will read this, and they'll say: Oooh, he's busy.
– Then we need to remove this one from the interview, haha. I'm just kidding, this is a joke. I'm in a relationship and everything is fine.
– You're a well-read, smart guy. This is rare in football. What was the last thing you read?
– The Collector by John Fowles. I usually read fiction. But sometimes I can also read about war, psychology. Now I have with me: Airport by Arthur Haley. And another book, Lord of the Flies by William Golding. My girlfriend gave it to me. By the way, we discussed it with Kuzyaev: he said that it's a good one.
– You follow some Telegram channels of journalists and insiders. What channels do you read?
– A minute of advertising? Ha-ha! "Insights from Karp", recommend everyone! I don't purposefully open the news to read about myself. For example, I recently read about Spartak's coach. It was interesting. Actually, I don't read many channels. I subscribe to the "Dynamo" channel, Kostya Alekseev leads it. I read Derunets. "B.I.G. of Football" is, Vasya Utkin, Ilya Gerkus.
– How come you don't have a car?
– Well, I don't have that desire for now. Over time, I plan to get my license, learn the rules and signs. Although, I'm more comfortable in a taxi, to be honest.
– Well, you probably look at cars of your teammates in Dynamo?
– Yes, there are some pretty good ones.
– Who has the best one in your opinion?
– Shunin.
– Is it Bentley?
– No, he got a new one already. I won't say. Well, the car park in Dynamo is good enough. If we talk about the brands that I like, it's Mercedes.
– G class or a coupe?
– I definitely would not pick a G class. Maybe a crossover or a coupe.
– You dream of going on a trip to the United States. Why?
– I would also like to visit other countries. It's just that since childhood you watch movies about New York, it's a different world in general. I want to see how people live.
– Would you go to a live concert? For example, Drake.
– I would rather go to the NBA or the NHL game. For any match, this would definitely be remembered for a lifetime. Well, I would probably go to Brooklyn or the Lakers with great interest, to watch LeBron playing.
– Have you watched Eurovision?
– No, I don't have any interest.
– What sport beside football did you closely follow last time?
– For tennis, when Medvedev played with Djokovic recently.
– Does anyone in Dinamo play tennis?
– I haven't asked the guys about tennis yet. I tried to play on vacation. I'm still very weak at it. So, I tried to diversify my trainings, it was quite exciting.
– The guys from the national team were asked: what do you know about Denmark and Finland? Almost no one knows anything. Have you followed these teams?
– Finland has a striker Teemu Pukki, who plays in England and Denmark has super players: like Eriksen and Heibjerg.
– Our U21 team played against Denmark recently, the performance was disappointing. It is hard to believe that we should start well against Belgium and with Denmark and Finland we will somehow figure out?
– There is no such fear. Both the coaches and the players have experience. I don't think you can burn out. For me, the most exciting is the first one, with Belgium. Very important, we play in St. Petersburg. The starting game is always important, so this match will be crucial. Then the other two will be the main ones in the group stage and so on.
– What is capable of this national team, if we talk about change of generations and transitional phase overall?
– I don't want to make any big statements. I want to believe that this team is capable of a lot.